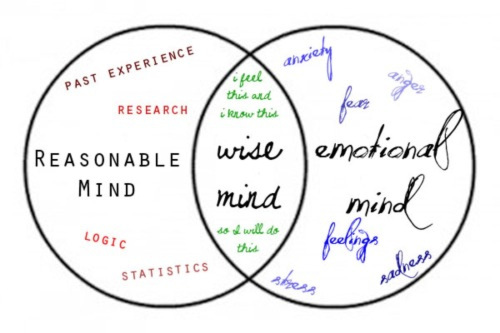 What is DBT?
Dialectical behaviour therapy (DBT) is a therapeutic approach that was developed to help people deal with overwhelming emotions. DBT has four key components of treatment; distress tolerance, emotion regulation, interpersonal effectiveness, and mindfulness. These aspects of treatment work together to create a greater ability to manage difficult emotions that may be interfering with relationships, work life, and role functioning.
Who is DBT useful for?
DBT was developed by Marsha Linehan primarily for the treatment of Borderline Personality Disorder, however, has since been shown to be effective for a range of other presentations including eating disorders, anxiety disorders, mood disorders, substance use disorders.
If you notice any of the following symptoms, DBT may be useful for you:
Feeling like your emotions shift quickly and extremely – this may also extend to the way you feel about people in your life (e.g., relationships often feel incredible or terrible, with nothing in between).
Worrying about people you care about abandoning you.
Doing things that are impulsive and/or self-destructive e.g., driving recklessly, risky sex, abusing substances, and spending money in ways you can't afford.
History of self-harm or suicide attempts.
Explosive anger – potentially becoming completely consumed by rage.
What is involved?
Individual sessions with a DBT trained psychologist – ideally these sessions will be weekly, of 50 minutes duration. Treatment focuses on reducing behaviours that detract from quality of life and introducing a range of effective skills to address symptoms, while also working to increase motivation to implement learnt skills. Skills might include mindfulness, distraction, assertiveness, problem solving, and self-soothing.
What does it cost?
The risks to not engaging in treatment are substantial – if symptoms of suicidality, self-harm, and emotion dysregulation continue, relationships are impacted, quality of life is reduced and employment is typically impaired. Many people find that after commitment to engaging in DBT, they have more stable and enjoyable relationships, are more able to engage in meaningful work and most importantly, they experience increased joy and contentment with daily life.
Effective treatment requires commitment over a reasonable period of time – this will vary for individuals but six to twelve months is often the minimum requirement for sustainable and effective improvements in symptoms. You may be able to access a referral from your GP that will allow you to access a Medicare rebate for some of your sessions reducing your costs to a modest out-of-pocket fee. For more information on obtaining an appropriate referral and our fee schedule go to our Fees and Referrals webpage linked here.